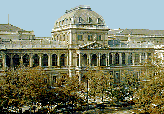 University of Vienna
Dr. Karl Lueger-Ring 1
The University of Vienna is located in the first district of Vienna.
It can easily be reached by public transport with the subway U2, the tram lines 1, 2, D, 38, 40, 41, 42, 43, 44, and the bus line 1A. Get off at the station "Schottentor". The university is located directly there.
The Austrian Society for Cybernetic Studies (ÖSGK) is located nearby the University (2 minutes walk). Its address is "Schottengasse 3". The ÖSGK is within walking distance of the subway station "Schottentor" of the U2 subway. Walk down the Schottengasse from this station. Alternatively, you may take subway U3 and exit at station "Herrengasse". Walk along the Herrengasse which directly ends at Freyung and Schottengasse.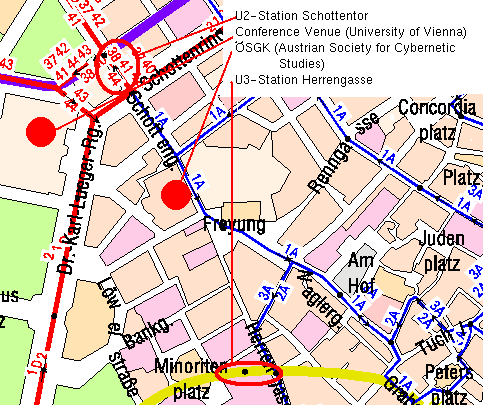 (click picture to get a larger map)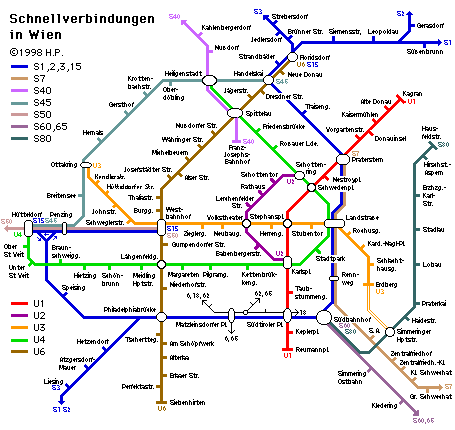 Public transportation time tables are available here.

More information about Vienna can be found at the City of Vienna's Web Server.

Information about the current weather situation in Vienna can be found here
---
will be handled by

AUSTROPA INTERCONVENTION,
Friedrichstraße 7
A-1010 Vienna
phone +43-1-58800-514
fax +43-1-58800-520.
You can use Austropa's secure online hotel reservation form for your booking.



---
jm